It's so exciting to be a young professional in the real estate and construction industry. If you have decided to be a part of the LEAPS, it means that you are interested in having a strong voice & contribution in our community. In LEAPS, you are motivated to better yourself for sure.
Founding in 2015, LEAPS is very excited to start having a big impact on the society. In the past year, we have built a good foundation of varying interests on environmental, real estate and charity aspects, and we look forward to continuing to challenge ourselves. One of those challenges is to take all of our members' passions, interests, and opinions about how we would like to help our community evolve becoming very vocal via joint professional collaboration from a young generation perspective. We need to be able to offer views on what we would like our city to be — and also we.

Growing up in Hong Kong during this unprecedented era, we have the opportunity to watch our community experience a rapid evolution that has created the amazing city we live in today. There is still so much more potential to continue to improve our quality of life, to support those less fortunate, and to continue to make Hong Kong stand out globally. There is so much we can do in this place and at this time that we can't afford to procrastinate. We must continue the tradition of great learning and connection building opportunities, and to guarantee that those who have passions and opinions to share have every opportunity to do so.
LEAPS is about building a better environment for young professionals in Hong Kong. It's about helping you connect with the community and to each other. Above all, it's about providing you with opportunities to grow personally & professionally, and to lay the groundwork for your future endeavors in our beloved city.
How can you get involved?
LEAPS keep designing various events to help familiarize new and potential members with LEAPS and its benefits. You can then meet other new members as well as existing members. We welcome all of you to test the waters and meet a few people before you decide to join us. Throughout the year, LEAPS hosts events on a wide variety of topics. Look at the calendar and pick something that's interesting to you. You are bound to meet people who have common interests here. If you want to take your involvement even more deeply, let also join our various committees to implement different events and initiatives of LEAPS. Committee involvement can range from simply offering ideas to taking on various leading roles. You decide just how involved you would like to become!
LEAPS is only as successful as our members choose to make it, so join us today as we promote an environment that attracts and retains young professionals in the industry. We believe in the impact we can make together.
Together, LEAPS further!
Yours sincerely,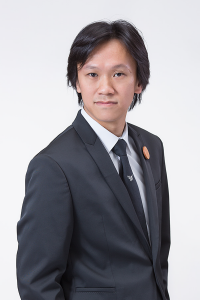 Dicky Lo
2017 – 2019 President
LEAPS